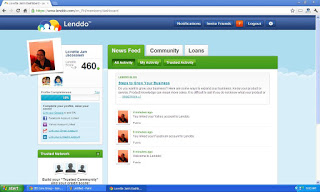 On October of 2010, during my first-ever stint as a speaker (naks!), I spoke about the need of businesses to be visible in social media. Social Media is a wide landscape. It includes blogs, microblogs, social networking sites, games, etc., etc., etc. Let's face it. Social media now takes up a huge chunk of our daily lives.
As if the number of hours we spend on the internet is not enough, now enters Lenddo on the social media arena — the world's first credit scoring platform that combines community-based microfinance techniques with social media profile data.
What is Lenddo?
Lenddo is an online website where users can engage their social networks to get access to low-interest loans and financial tips. Its mission is "to help members invest in themselves and their community."
Lenddo funds loans for life-improvement purposes, including business,healthcare,education,professional training, and home repair.
How can you apply for a loan?
Applying for a loan is easy.
Join Lenddo.com and build trust connection. Fill out all your information; link your social networks; and invite your family, friends, and co-workers.
Enter all your information. Fill out employment and financial information.
Click on the Loans tab on your dashboard.
Fill up the loan form.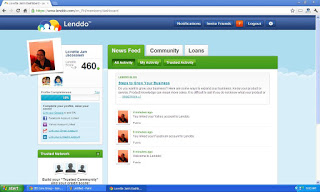 Here's a presentation to give you a better understanding:
How long does it take to process a loan?
Lendo's commitment to its member is to process loan application within one (1) business day as long as the information provided is complete and correct. Funds will then be deposited into a specified bank account which should be under the member's name.
How much does Lenddo loan?
Lenddo currently funds loans up to a minimum of 5,000 Php and a maximum of 43,000 Php.
How much does it cost? And what are the payback periods?
Interest rates are dependent on your Lenddo score, and local rates and terms range from 3 months to a year.
What fascinates me about this service is its quick processing. More often than not, loans are needed for emergencies, and we simply cannot afford the time it usually takes for bank loans to be processed. With Lenddo, it takes 10 minutes to apply, and 1 business day to ease your financial worries. And hey, everything happens online, thus reducing the carbon footprint.
I may not be a huge fan of loans, but just in case one day I need it, it's good to know there's Lenddo. 🙂
For more details about Lenddo and its services, click HERE.
http://lovettejam.com/wp-content/uploads/2012/03/lendo.jpg
192
320
lovettejam
http://lovettejam.com/wp-content/uploads/2018/02/LOVETTEJAM-1-e1518060668774.png
lovettejam
2012-03-24 05:11:00
2016-03-10 14:53:14
Financial Empowerment with Lenddo