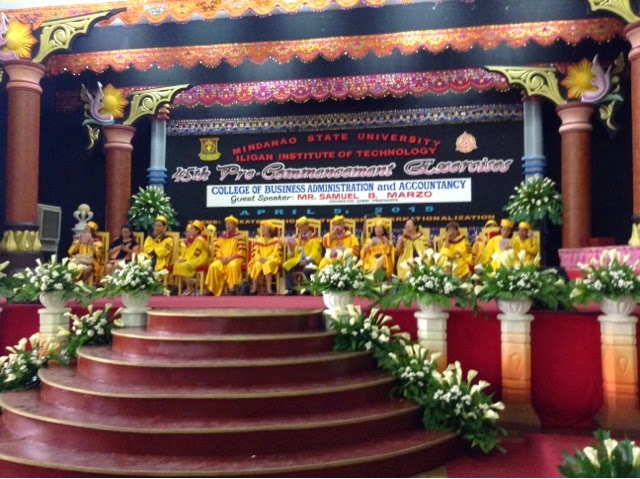 Note: An ad-libbed version of this message was delivered during the 45th Pre-Commencement and Recognition Ceremonies of the College of Business Administration and Accountancy in MSU-Iligan Institute of Technology last April 5, 2015.
Ten years. I can't believe it's been ten long years. I could still remember when I received my degree in BS Biology (Zoology). I was sitting there during the commencement exercises ten years ago. I was then an eager fresh graduate, willing to rush through life. I thought I had figured it all out – 4 years of med school, a year of post-graduate internship, another year to review and pass the Physician Licensure Exam, then specialize in Pediatrics. That was supposedly my path to success.
For as long as I can remember, I had always had a consistent answer to the question, "What do you want to be when you grow up?" I have always wanted to be a doctor. Lovette Jam Prada Jacosalem, M.D. There's a nice ring to it, yes? So, why not?
But if someone told me ten years ago that I would quit med school a year into it, be a corporate slave and then work through online jobs, start a small business, and earn a degree in Masters in Business Management, I would have laughed and maybe snorted in disbelief. Like a hardworking horse with blinders on, I have always set my eyes on the road ahead and worked as hard as I possibly could. Ten years ago, I was certain I would be a successful doctor.
But apparently, life isn't always how we envisioned it to be. Sometimes, reality hits us right between our eyes. What we thought would make us happy and successful could turn out to be something that brings much pain and suffering. While pain and suffering may make success sweeter, sometimes, we wake up one day and we just know in our heart of hearts that it wasn't meant to be. That it's time to walk away.
I may have deviated from the life path set by my 20-year-old self. But I learned some things along the way. And I think today is an opportune time to share them with you.
First, I learned that we define our own success. Success should be defined in personal terms. We learned in economics that scarcity has value. But value of what? for whom? and how much? That's the side of the equation we don't usually focus on, but we must. We need to define what success means to us and determine what truly is of value for us. Because the moment we let go of other people's definitions of success and value, real clarity begins.
As a serial entrepreneur and bestselling author, Rick Smith, puts it, "Make certain you are on the right journey. It's about living where your unique passions and strengths intersect. It's about not trying to force ourselves into roles that were never meant for us, or slaving toward a prize we will ultimately discover is worth very little. It's about the meaning and value derived from intentionality, from being in control of your life's own direction."
When we define success in our own terms, the journey and the destination becomes a little clearer and success becomes achievable.
And when we do reach success, we need to keep our feet on the ground. That's lesson #2. While it's good to take pride in what we do, to celebrate our successes, and to pat our backs for a job well done once in a while, it's not okay to rub your success on other people's faces. Remember to be humble. Let's keep our feet firmly planted on the ground and have a grateful heart. Let's acknowledge the blessings we have received and will receive.
Today, more than ever, let's remember to thank everyone who helped us out one way or another – our parents, our professors, our mentors, and our friends who helped us get through our degrees.
Third, it's important that we never stop learning. Yes, it's a crazy world out there. Unemployment rates are frightening. The competition is tough, yet the opportunities to learn are endless. There are many ways to better equip yourself to get ahead of the competition. Invest in yourself.  Attend trainings, seminars, and workshops. Sign up for online courses. Or maybe, go to graduate school. Enrol in a reputable school, where you can learn from thought leaders in your field, where you meet like-minded people from different industries.
In all honesty, I didn't expect much when I enrolled in MBM. I didn't even know what I got myself into. I just threw myself blindly into an unfamiliar territory. My background was in biology, but I plunged headfirst into the world of business. It was scary, yes, but I sure am glad I did. It was a bumpy road for me, but it was all worth it. The MBM experience was something I wouldn't trade for anything else.
Which leads me to my final point. Life is never smooth-sailing. Grad school is no exception, especially when you have a job and other responsibilities on top of your studies. But a mantra kept me going: Let all that you do be done in love (1 Corinthians 16:14). Life isn't easy. I'm pretty sure each one of us, graduates, had gazillion bouts of stress, panic attacks, and moments of self-doubt. There had been times when we'd ask, 'what have I gotten myself into?' or the more familiar version of 'nganong ni-enter pa man ko?'
There were times when we start to doubt ourselves and our capacity to move forward. It happened in school, and it certainly will happen more often in the real world. But I learned that whenever doubt finds its way into our hearts and minds, we just need to take a deep breath and wait it out. Breathe it all in. Love it all out. It may not automatically make everything better, but it would definitely give us enough inspiration and motivation to push forward; to move a little closer towards our dreams – for ourselves, for our families, for the community, for our future.
Let me end this talk with this message: The power of education can't be measured unless you count its power to create a career, a life, provide for a family and most importantly, pave the way for a better tomorrow. As we soon leave the premises of MSU-IIT as graduates, we hold that power in our hands. We have been blessed to be where we are right now. May we not forget to look out for opportunities to be a blessing to others as well.
Thank you. Congratulations, and may the Almighty God bless us all.
http://lovettejam.com/wp-content/uploads/2015/04/blogger-image-1040115998.jpg
479
640
lovettejam
http://lovettejam.com/wp-content/uploads/2018/02/LOVETTEJAM-1-e1518060668774.png
lovettejam
2015-04-06 10:06:00
2017-04-24 14:25:26
Ten Years, Four Lessons: A Message to Fresh Graduates