To officially end the summer break, I attended Cebu Blog Camp 2011 with fellow Iligan Bloggers, Xy-Za, Ma'am Arlene, and Fleire (a Cebu-based Iligan blogger) last May 28. It was my first blog camp ever (or my first event as a blogger (daw)) apart from a couple of meet-ups with Iligan-based bloggers to formally and officially start Iligan Bloggers Society.
Take 1: Ma'am Arlene, IBS Prexy Xy-Za, Me, Fleire, Dabby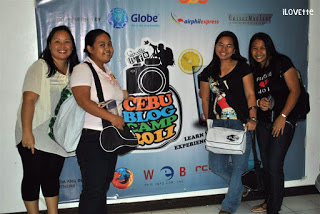 Take 2 kay natabunan daw ang CBC2011 logo. 😉
In a prior post, I enumerated some reasons why I really, really, really wanted to attend the camp and braved typhoon Chedeng just to get to Cebu by boat! (Haha! OA lang! Wala po kaming naramdamang bagyo. ;))
So anyways, let's move on and see if my expectations were actually met and the reasons for attending (IBLOG) were justified…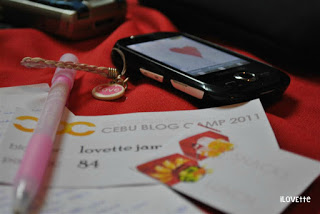 Pass number 84, wala kadaug sa raffle. :p


I — It's free!
Yes, it was really free. No fees and no required purchases whatsoever. I was thrilled enough when I learned that registration was free. What I didn't know was there were even more freebies! For starters, early birds were given
AirPhilExpress
shirt and slippers.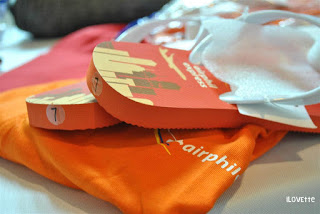 And it did not end there. There were more and more and more! Round trip tickets from airphilexpress, shirts and bags and ballers from Mozilla Firefox, shirts and badges from PicLyf, stickers from Google, and many many many more were given away in between presentations.
And of course, the passes also came with free lunch and snack.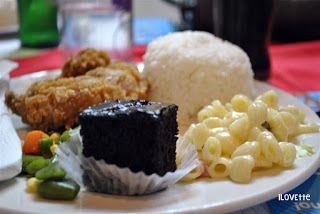 *burp*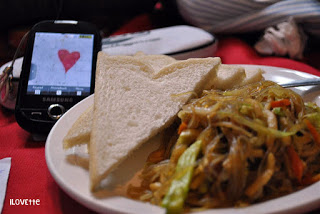 B — Because the topics are all interesting, and the speakers are masters of their craft.
I took notes like crazy — as if there would be a pop quiz after the camp. And I even took pictures of the slides of the last two speakers just in case I can't keep up (obsessive-compulsive mode). Yikes!
So here are the topics discussed during the blog camp…
Photography 101 by Paul Gotiong.
Sir Paul is an award-winning photographer. He discussed the basics of photography, including aperture, shutter speed, ISO; understanding the histogram; useful camera settings; composition; types of light; recommended gears; and posting photos online. Needless to say, it was an information-packed talk. I learned a lot, but um, I must admit I
seriously
need hands-on training. 😀
Travel 101 by Estan Cabigas. Sir Estan is an award-winning travel blogger and photographer. He talked about how to travel alone, and he shared 8 very important things travel bloggers must do: (1) have a curiosity for the world, (2) research and plan, (3) keep an open mind and talk to locals, (4) bring what is essential [camera, notebook, pen], (5) experience the place, (6) respect local customs and mores, (7) learn about the local culture and language, and (8) always be safe.
Google and Travel by Aileen Apolo-de Jesus. Ms. Aileen is the very pretty and perky Google Country Consultant for Philippines. Her presentation was on improving traveling with services by Google. She also discussed some new cool tools from Google to "add oomph to your blog."
Bloggers' Etiquette 101 by Janette Toral. Ms. Janette is the founder of Digital Filipino and author of Blogging from Home. Her topic was Bloggers' Etiquette 101, and she's super awesome! No wonder she's one of the most sought-after speakers in the country. She certainly knows how to keep the audience engaged and also wanting more. You can check here presentation about bloggers' etiquette when attending events here.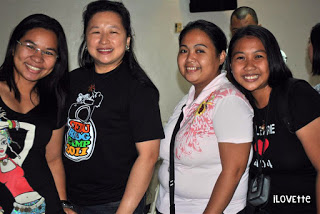 With Ms. Janette (actually, pwede na icrop sina Xy-Za and Fleire. Hehe…)
Food and Restaurant Review 101 by Chef Anthony Gomez. This is one of the topics I was looking forward to. I'm a foodie, so I was all ears during his talk. Chef Anton worked as Head Chef in Ativo Italian resto and also in Marco Polo Cebu. He was super passionate about food, and he taught us how to understand food in order to appreciate it. According to him, food should be enjoyed with all the senses.
Social Media Marketing 101 by
Coy Caballes
. The last two presentations were related and were focused on promoting your brand (or blog). Coy is a vlogger and he's the Social Media Manager for Globe. His presentation was on social media diet, complete with appetizer (facts and statistics), drinks (the right mix of channels for your campaign), main course (content), and of course dessert (rewarding your community). His presentation can be found
here
.
Social Media Marketing Success through Facebook by
Ruben Licera
.
While Coy discussed social media in general, Sir Ruben, who is a Certified Internet Marketing Expert focused on the king of social networking sites — Facebook! He shared eight Facebook Success Secrets: (1) Set your goal; (2) Keyword Research; (3) Choose the right visibility for you; (4) Quality content; (5) Leave trails; (6) Go viral; (7) Heighten engagement; and (8) Monitor and evaluate. I must admit, this talk was rushed as we were pressed for time. I can't keep up taking down notes, so I just took photos of the slides. Hihihi!
L — Love of learning new stuffs.
In every experience, what counts most are the lessons learned, insights gained, and decisions on what to do with the newly acquired knowledge. Here are a few significant learnings and resolutions (www.char.com/heavyrasad):
Photography 101: I learned two things from Sir Paul:
Watermark your photos. Before Cebu Blog Camp, I never felt the need to put a watermark because I felt my pictures were not as good as they should be. (Kumbaga, pang professional photographers lang ang watermark. Haha!) But now, I intend to do a little extra effort in posting online.
Always reformat your memory card. Deleting photos is not enough.
Travel 101: One thing that Sir Estan said that stuck was that ladies should not be afraid to travel and explore alone. (Ummm… Sige, next time na lang ang resolution.)
Google and Travel: Ms. Aileen made me realize that there are indeed multiple ways to add oomph to your blog. That means my blog is in need of serious revamp. I will find time for that, I promise. 🙂
Bloggers' Etiquette: When attending events, prepare a pitch. As Ms. Janette said, "you will meet media, fellow bloggers, host, and organizers at events. Best to have a short introduction about yourself and your blog. They usually ask: what do you do? Where are you connected? What is your blog about?" True! This reminds me of the need to renovate this blog and focus on a specific niche.
Food and Restaurant Review: The next time I attempt to describe food, I would listen to the sound of the crunch as I bite into Balamban liempo and Cebu lechon. I would capture its aroma; feel its texture; enjoy the balance of sweet, sour, salty, and bitter taste; and just fully enjoy the experience. 😉
Social Media Marketing: I realized that there is no need to be overwhelmed with the number of social networking sites out there. You just have to focus on a few that would cater to your needs.
Social Media Marketing Success through Facebook: Facebook is truly a very useful tool to increasing traffic. I'll do this later, perhaps after the site renovation. Let me just focus on content. Baby steps. 🙂
O — Opportunity to meet new friends.
Ah yes, I met wonderful people because of the camp. I did not really mingle much after the event because I am really shy (true story!). I only got to talk with our tablemates,
Jam
and
Kristine
. (Note to self: Update blog roll).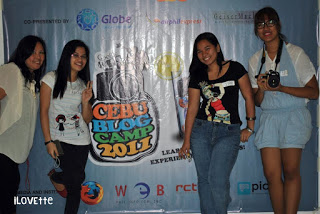 Obvious na ang height difference sa duha ka Jam! Haha!
And then Fleire introduced Xy-Za and I to Ms. Janette, and we got to enjoy a sumptuous meal at Casa Verde, The Walk, IT Park afterwards. Weeee!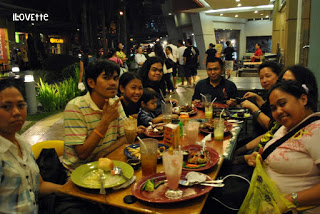 at Casa Verde
G — Gimingaw ko sa Cebu!
Non-Cebu-based bloggers were invited to a day tour the day after the blog camp. I have to say, this trip certainly made me love Cebu even more. And so this part deserves a separate post. ^___^
So yes, my expectations were met and even exceeded! My utmost gratitude to
Johnn Mendoza
, the organizer, and the rest of the Cebu Blog Camp team for the invitation. The trip was super worth it, and I'm soooo looking forward for next year's camp! 😉
http://lovettejam.com/wp-content/uploads/2011/06/delegates.jpg
214
320
lovettejam
http://lovettejam.com/wp-content/uploads/2018/02/LOVETTEJAM-1-e1518060668774.png
lovettejam
2011-06-04 04:44:00
2016-05-30 17:03:19
Huling Hirit sa Tag-Init: The Cebu Blog Camp 2011 Experience